2017 Readers' Favorite International Book Award


---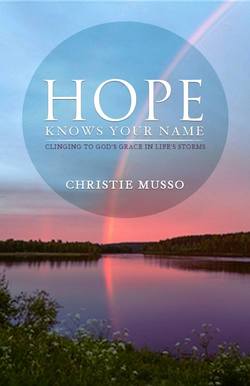 ​Review by Julia SchemmerReviewed By:
Julia Schemmer
Review Rating:
5 Stars - Congratulations on your 5-star review!

Reviewed By Julia Schemmer for Readers' Favorite
Sometimes in the midst of a mundane and comfortable life, tragedy strikes. You don't understand why, and you find yourself immediately plunged into a quicksand of depression, insecurity, and the guilt that comes from never getting to say goodbye. As you search for a remedy, there is only one thing able to pull you through: the concept of hope. In Hope Knows Your Name, author Christie Musso details her own past experiences of dealing with abuse of all forms, loss of all kinds, and a brokenness like no other. But she doesn't just leave it there. While it would be easy to disappear into a sinking sea of loss, Musso grasped the strength to write her book, detailing ways people dealing with loss can recover. Throughout this book, she cites Scriptures and has a unique way of convincing readers that everything will be okay. This book is perfect for someone dealing with loss, pain, or needing a pick-me-up in the midst of the discouragement that the world brings.

I'm convinced that books come in the right place, at the right time. While I was reading Hope Knows Your Name by Christie Musso, my entire family got into a car accident due to a drunk driver, wrecking our car and almost taking the lives of my entire family. This book was more than words on a page; it became my refuge in a time of uncertainty. Because of Musso's honesty and way with words, I found myself endowed with the ability to move forward, something I didn't imagine doing. For all broken people out there, read this book. I assure you it will be a bigger return on your investment than you can imagine.
---
Clinging to Gods Grace in Life's Storms

by Christie Musso
Christian - Non-Fiction
168 Pages
Reviewed on 08/12/2015
Email the author
hopeknowsyourname@gmail.com